NGUGI WA THIONG'O AND THE FIGHT TO FREEDOM FOR THE KENYA NATIONAL THEATRE
Gerald Langiri
10K SHARE
I was among the few dignitaries (if I can call myself that) that managed to get an invite to the grand Re-opening of the now revamped Kenya National Theatre. So scarce were the invitations my contact warned me way in advance not to get my hopes way up. But as fate would have it, I managed to be attending this auspicious presidential event…and yes, I did shake hands with the president.

See my career as a performing artist begun at the Kenya National Theatre or KNT as we all fondly refer to it. I'd watched my eldest sister play a role of a 'prodigal' daughter in a church play, which turned out to be pretty good. I remember my kid brother shrieking in horror when my sister was 'attacked' at some point during that performance and I guess right there and then,I knew that this place was pretty special. My turning point however, came when I watched Johhny Githui (Rasta: Mother-In-Law) , Gilbert Lukalia (Director Pray & Prey) & Kebaya Moturi (Dance Forum) give a kick ass performance of 'Looking For A Rain god' then a set book for Kenyan high schools.
These guys were the embodiment of star power to us high schoolers, squeezing into the backstage just to get an autograph. That was how highly esteemed the stage actors, precisely at the Kenya National Theatre were held.
If you can remember the days when an old, rusty, broken down bus donned the 'vintage' decor of the theatre compound, right at the back, then you my friend are officially a veteran. The days when the foyer served as home to many a broke artist. When the occasional 'mbao', 'blue' or twenty bob was enough to rescue a hard up friend. Ah, the good old days.
So please understand my excitement when Ngugi Wa Thiong'o and Micere Mugo rose up to give a brilliant speech each, on their journeys in the Kenyan art and performance renaissance dating all the way from the 60's at the opening ceremony of the revamped KNT. Their tales so rich I was captivated from start to finish. I've never listened to such long speeches so steadily to a point of actually getting goose bumps. The thrill. We all stood up applauding in awe. It was something else. I felt something move...Ngugi narrated how he used to stage plays while the police from the Central Police Station and Patrick Shaw stood at the Norfolk balcony ready to attack. No pressure. (And you thought learning your script is tough).
In 1976 he co-wrote a play with university colleague and poet Micere Githae Mugo, 'The Trial of Dedan Kimathi' which chronicled how Dedan had led the Mau Mau uprising, and was executed for it by the British colonial regime. Ngugi and Micere wanted the play staged at Kenya's National Theatre. The only problem was that the British masters had decided that Kenyans couldn't fill the theatre and thus were unworthy of staging plays or even watching them. But really, why would they flock the theatre to watch washed up bedroom farces?
(Fast forward to 2015 and it's a different scenario sigh!) So the venue's European management, who had scheduled to put up 'A Funny Thing Happened On The Way To The Forum' declined this rather daring proposal by the two Kenyan playwrights. Eventually 'The Trial of Dedan Kimathi' was granted a four day schedule and it sold out! I mean who doesn't love a good play, right? Wrong. The interestingturn of events left some folks in 'high' places seething.

"As the actors performed their last song and dance through the middle aisle of the auditorium, they were joined by the audience. They all went outside the theatre building, still dancing. What had been confined to the stage had spilled out into the open air, and there was no longer any distinction between actors and audience." narrated professor Ngugi.

As a result of this, Ngugi received an invitation from the Criminal Investigation Department where he was bluntlyasked "Why are you interfering with European performances at the National Theatre?"
Apparently the British play that followed didn't get a good house as was the norm.
He was then warned: 'we will plant our people in your cast'.
Undeterred, he went on to book space for the next hit ' Maitu Njugira'
"We had properly booked the theatre, met all the legal and financial requirements, but on the day of the performance, we found the doors into the National Theatre padlocked and armed police patrolling the area.'Maitu Njugira' remains a suspended dream, these last 30 years, for I could never bring myself to have it done outside Kenyan soil" explained Ngugi.
Staging of the play 'Ngaahika Ndeenda' /I will marry when I want, performed at the Kamirithu Educational and Cultural Center, had already seen him become a guest of the state for most of 1978. Ngugi recognized his precarious position. Shortly after Ngugi was forced into exile, Micere Mugo spoke about being harassed for having ideas of a free thinking Kenya stirred up by art and the theatre essentially fighting for a 'democratic cultural space'.
They (Ngugi and Micere) both fled because they were not only ostracized buttheir veryliveshad been threatened just because they had dared to dream something bigger than they were supposed' to. Perhaps something to think about next time you perform, write a script, direct or even go for an audition. The freedom of expression in this country was hard won.
A cloud lifted on the 8th of September. The younger Kenyatta apologized for the transgressions of the past (well, his father's & Moi'sregime) against the spirit of freedom and expression at the Kenya National Theatre & this country as a whole. Ironically the Senior Kenyatta had a theatre background as back in the day, he had acted in the film, and 'Sanders of the River 'alongside the great Paul Robeson, the guy that sang the famous' let my People Go.

Artist being shunned misunderstood and perhaps not getting the recognition they deserve in Kenya is clearly something that started with previous regimes. The apology from the president Uhuru was well timed and very deliberate...it's as if something shifted in the spirit of this grand, old space.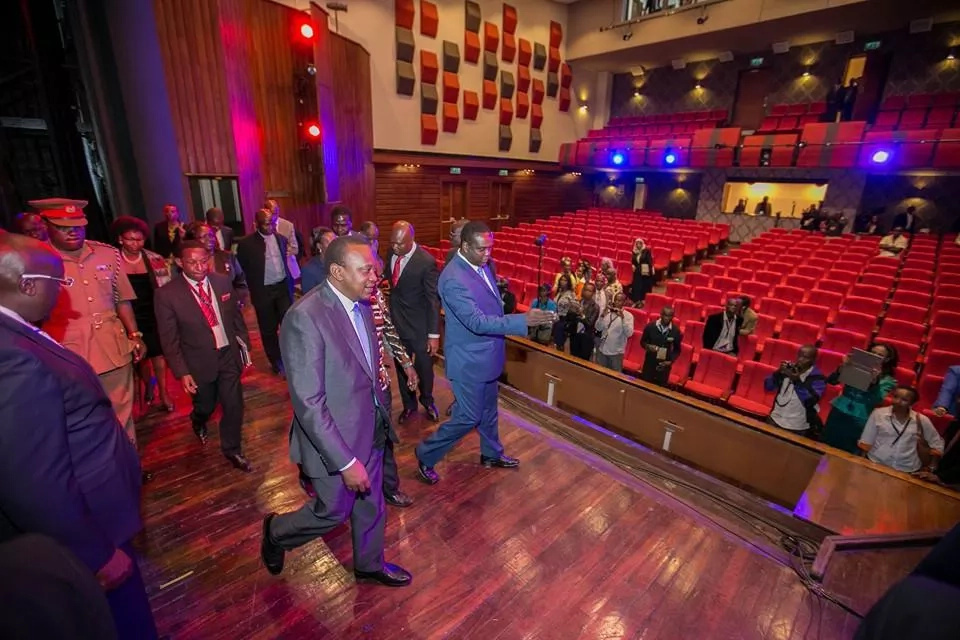 Uhuru lifted the 30 year old ban on 'Maitu Njugira' and asked Ngugi to invite him when he decides to stage the play.
Professor Ngugi WA Thiong'o & Professor Micere Githae Mugo were forced into exile by a vicious system which suppressed free thought and expression. On this day, Professor Ngugi and Professor Micere were welcomed back home...redeemed. They became guests of the State, but on a more amicable note.
"We are sorry for the actions which arose from misunderstanding and paralyzing dogmatism from the old era", said President Uhuru Kenyatta.
In his closing remarks after therousing speech, Professor Ngugi WA Thiong'o had this to say: "Now our collective dreams have a home. Go on and enjoy the new facilities. Take selfies; speak highly of our home. Remind Kenyans & the world that our craft is just as honourable as any other career. Fascinate your neighbour with the controversial National Theatre history. I'm sure there's even more stories to unearth. Create awesome scripts for us and about us. Maybe then we will have less desire to stage foreign material. Maybe then, we will begin to 'see ourselves and our dreams' as Professor Ngugi so aptly put it.
Let the rebirth begin.
Finally we have permission to be.
(Ref: Ngugi Thiong'o's Prison Memoirs "Detained: A Writer's Prison Diary" (1982)| Article by Valentine Ziki

Other Posts